Why Us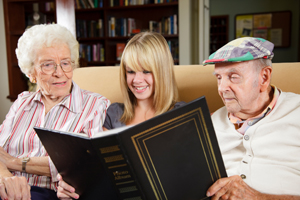 The Drews Place Difference:
We choose to stay small. Our homes are designed for only twenty residents. We want the experience to be intimate and for our residents to receive a lot of individual attention.
Our "Resident Aides" are cross-trained to perform all functions related to the resident's care. This includes cooking, cleaning, laundry, and managing personal care. Residents can rely on the staff for anything they need. This helps to foster an extended family enviroment and cultivates personal relationships between the staff and residents.
We create strong partnerships with our families and communicate with them on an on-going basis. Our visiting hours are open and residents can come and go as they please.
Our Life Enrichment Coordinators are key players on our staff. They provide activities that keep the residents connected to the community. We also seek to find activities that promote a sense of self-worth and contribution to society. They facilitate activities that provide socialization, wellness, healthy competition, and laughs!
Values for service, our rates are the best in the area. There are no admission or application fees. Television service is available in all rooms at no additional charge.
As owners and operators, we live in the communities we serve and are vested in the success of these communities. We take a personal interest in supporting local businesses and contributing to local fund raising efforts.